I have been wearing a wig myself for several years and understand how important it is to feel beautiful and comfortable. I use my hairdressing skills to cut and colour wigs to look very natural and stylish. Most people don't realise my hair isn't my own. Many wig sellers/ makers won't cut and style someone else's wig. I'm happy to fix your wig whether it's too big/small, if it needs re cutting or if you just need advice on how to wear it.
I give all my clients a thorough consultation, so that their wig suits their face shape, skin tone and fits perfectly. Apart from the services listed below, I also offer wig repairs.
STYLING
If you're feeling bored with your current wig, you can bring it into the salon for a revamp. After a consultation we can decide together if you would like a new colour, style, or even a perm.
Leave it with me for two to three days, collect at your convenience and your wig will look as good as new (only better).
Prices
| Services | Price |
| --- | --- |
| WASH AND BLOW DRY | FROM £28 |
| FULL HEAD TINT | FROM £35 |
| CUT AND BLOW DRY | FROM £56 |
| HIGHLIGHTS | FROM £80 |
| PERM | FROM £80 |
| RESTYLE AND BLOW DRY | FROM £100 |
| DISCRETIONARY CONSULTATION FEE | £35 PER HOUR |
Go To: Prices
Prices are subject to change. You will be given a quote during the consultation.
"Denise has been styling and re styling, cutting and colouring, my wigs for several years and I have come to rely on her ingenuity and artistry. My wigs are always admired by my friends and colleagues and I am always delighted by her creativity and professionalism."
Mandy
---

WavyWigs is my own label of tailor-made wigs,  based on your specification, I will add hair and adjust the wig so it's perfect for you.
Below are some available wig options:
Straight, wavy or curly Brazilian or European hair
Small, medium and large cap(s)
All hair colours
Full wigs, Toppers, kippah wigs, ponytail clips, band falls, hat falls and pony tail wigs
Lace top and lace front WavyWigs are the most natural looking and can be worn off the face without a fringe. They are all multidirectional wigs, which means you can part the hair wherever you like.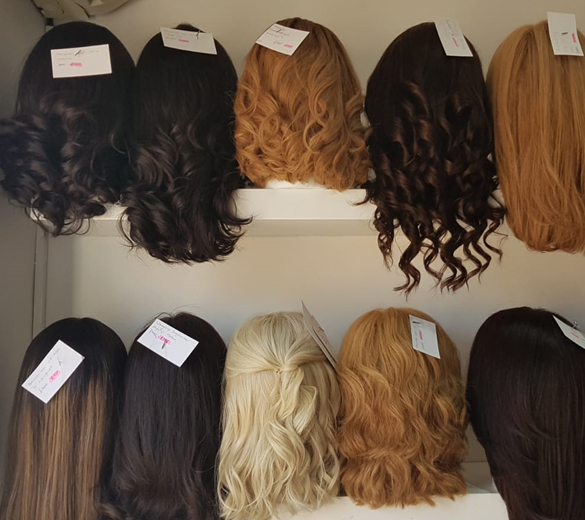 "Dear Denise, Buying your first sheitel is never easy! I was fortunate to have had a wonderful experience with thanks to your patience and time spent with me. Your advice was invaluable and I have recommended you to many people as a highly satisfied customer."
Adele
"Denise has been cutting and styling my sheitels for almost 10 yrs and we are still talking! I have recommended her to many people as she cuts the hair beautifully and I always leave feeling my best."
L.M
"Hi Denise, Just want to thank you for the beautiful sheitel. Had so many compliments on the way it looks – hair is amazing and the cut is excellent. many thanks – I'll be back for the next one."
Shelley